[HVN Webinar] Digital Transformation: Gain new production efficiencies & lower cost with digital manufacturing solutions
Join Hitachi Vantara Vietnam with SAP Webinar: Digital Transformation:
Gain new production efficiencies & lower cost with digital manufacturing solutions
After months of fighting Covid-19, Ho Chi Minh City and southern provinces resumed economic activities from October 1 since pandemic have been basically controlled.
In this scenario, how entrepreneurs adapt to "new normal" to recover quickly, return to grow and expand their businesses which ensuring manufacturing process optimization, operational efficiencies, and profits improvement?
Join Hitachi Vantara Vietnam and SAP webinar entitled "Gain new production efficiencies and lower cost with Digital Manufacturing solutions" at this event to gain insights on:
Modern manufacturing challenges & vision to optimize operation & cost efficiencies with End-to-End Digital Manufacturing solutions.
Leading Practice: Make to Order – Manufacturing Scheduler & Shop Floor Operator Day of Life.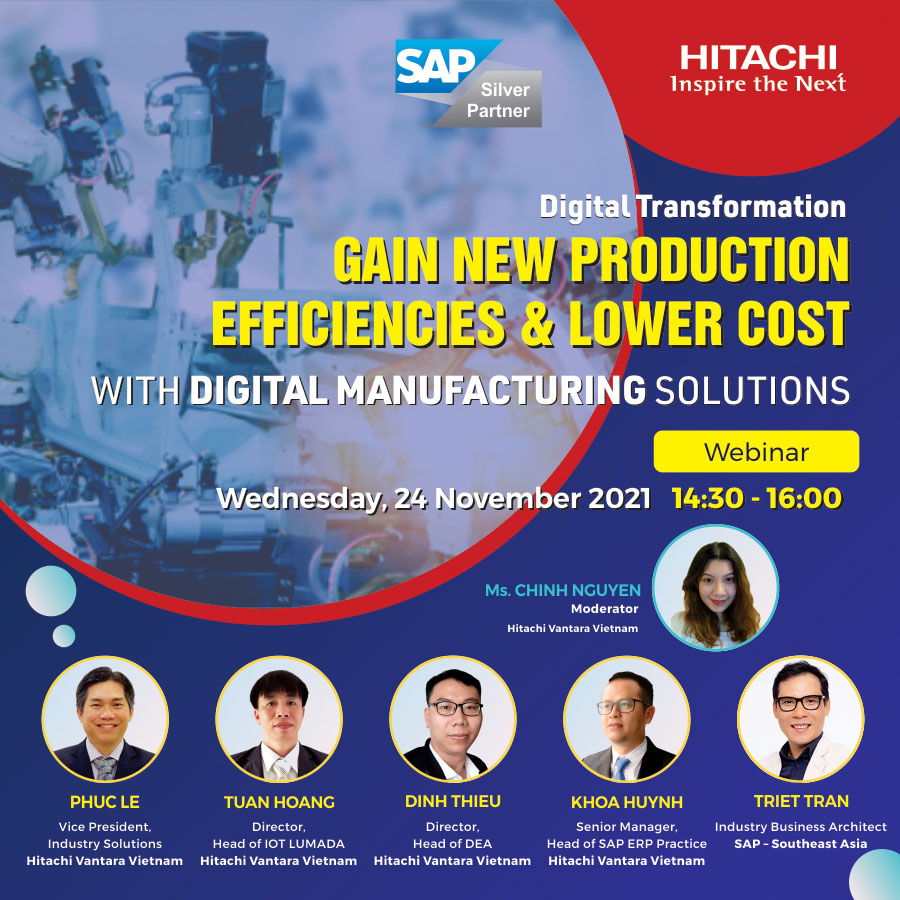 Registration link: bit.ly/HVNSAPWebinar
Send email: HVNMarketing@hitachivantara.com
#Webinar #DigitalTransformation #DigitalManufacturingSolutions #HitachiVantaraVietnamwithSAP
About Hitachi Vantara Vietnam – www.globalcybersoft.com/en/
Hitachi Vantara Vietnam (formerly known as Global CyberSoft Vietnam) is a leading global IT solutions provider founded in California in July 2000. A Hitachi group company since October 2014, it was rebranded as Hitachi Vantara Vietnam (HVN) in January 2020. With over 800 professionals and engineers, three centers in Vietnam and offices in the US, Japan, and Europe, HVN provides premier digital solutions and services to customers in more than 18 countries around the world in the business areas: Digital Insights, Digital Modernization, Digital Enterprise, Embedded Systems, Digital New Offerings, and Managed Services.
About SAP – www.sap.com/index.html
SAP is the market leader in enterprise application software, helping companies of all sizes and in all industries run at their best: 77% of the world's transaction revenue touches an SAP system. Our machine learning, Internet of Things (IoT), and advanced analytics technologies help turn customers' businesses into intelligent enterprises. Our end-to-end suite of applications and services enables our customers to operate profitably, adapt continuously, and make a difference.