83% of IT leaders are planning to outsource their security to an MSP in 2021. In addition, 24% of small businesses outsource to increase the efficiency of their business according to Capital Counselor. In the last decade, the corporate approach to information management has shifted dramatically. To keep up with the fast-changing modern world, companies are looking for digital transformation strategies. IT outsourcing providers stand out in this context for their ability to help businesses gain a competitive advantage.
1. IT Outsourcing Definition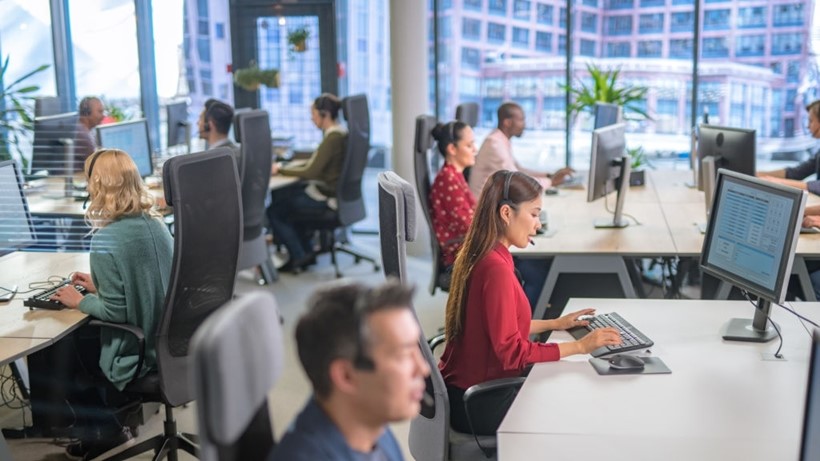 "IT outsourcing is the use of external service providers to effectively deliver IT-enabled business process, application service and infrastructure solutions for business outcomes. Outsourcing, which also includes utility services, software as a service and cloud-enabled outsourcing, helps clients to develop the right sourcing strategies and vision, select the right IT service providers, structure the best possible contracts, and govern deals for sustainable win-win relationships with external providers.
Outsourcing can enable enterprises to reduce costs, accelerate time to market, and take advantage of external expertise, assets and/or intellectual property." – Gartner
Outsourcing is a business strategy that involves contracting out resources or job functions to a third party. For example, an outsourcing project with a technology provider in information technology may include various operations, ranging from the entire IT feature to discrete, easily specified components like disaster recovery, network services, software creation, or QA testing.
Companies can outsource IT services onshore (within their own country), nearshore (to a neighboring country or in the same time zone), or offshore (to a country outside of their time zone) (to a more distant country). Traditionally, nearshore and offshore outsourcing have been sought to save money.
2. The Benefits of IT Outsourcing
When anyone considers outsourcing their IT department, they usually want to know why they will do so, what IT services can be outsourced, and the benefits of outsourcing IT technical support, here are the top reasons why business owner tend to resort to IT Outsourcing:
Flexibility
Outsourcing aids in the fast and efficient management of IT tasks and workload spikes. The best part is that you won't have to waste money on recruiting and firing an in-house employee. This is especially useful when an organization requires a specific skill for a limited time.
A wide pool of skilled specialists
One of the most important benefits of outsourcing IT services is having access to a larger pool of qualified professionals and rare tools. Finding an in-house employee with a specific set of skills can be challenging at times.In addition, it's much more difficult to develop those abilities. As a result, having an outsourced service provider that can provide you with the necessary services and meet the company's expertise and technology requirements makes more sense.
Focus on core business activities of your company
With the aid of IT outsourcing, your team's strength can be increased. It's particularly critical for small and medium businesses that don't have a lot of IT capital. Rather than burdening employees with unfamiliar responsibilities, it is preferable to delegate specific tasks to experts, allowing in-house staff to focus on more critical business activities.This IT outsourcing advantage is particularly beneficial for businesses that do not operate in the IT industry. If this is the case, it is often preferable to delegate all IT tasks to a single service provider.
Cost-efficiency

One of the most appealing aspects of outsourcing IT services is the potential for cost savings. According to Deloitte's study, 59 percent of businesses chose to outsource IT services because it saves money.What causes this to happen? First, IT outsourcing is cost-effective because it removes the need to hire and train new employees, which is a time-consuming and expensive process. Furthermore, when a business outsources, it can avoid additional charges and hidden expenses such as purchasing costly hardware and software, renting office space, paying taxes, etc.

Labor costs can be significantly reduced because outsourced service vendors' prices are typically much lower because they are based in less expensive IT production regions (Vietnam, for example).

High productivity
Performance is improved, and results are obtained faster when the workload is divided into many functional components. Outsourcing is all about this.You assign specific tasks to external experts, who complete them concurrently with your core business tasks. Furthermore, due to the time differences, an uninterrupted workflow is feasible. As a result, the development time is reduced.
Knowledge of the industry and innovation
Nobody can deny that your in-house employees know everything there is to know about your business. However, when it comes to the systems that employees are used to, this experience may often get in the way of using novel methods.In addition, if your company doesn't deal with information technology, there's a good chance you're missing out on the new industry trends. As a result, IT outsourcing is innovative because you can get a fresh perspective on what the business needs in terms of information technology.
Top-quality equipment which you don't have to buy
Another great advantage of outsourcing IT services to a third party is that you won't have to spend thousands of dollars on expensive equipment and software that you'll only need a few times a year.Instead, companies that provide IT outsourced services can do it for you so that you can get high-quality IT goods.
Risk management
When you work with a full-cycle IT firm, you can expect them to share service interruption risks with you as well as provide disaster recovery and data protection services. Therefore, when signing a contract, it's a good idea to have this clause.
3. IT Outsourcing Model
Your specific circumstances determine the relationship model you choose. On the other hand, some untrustworthy vendors could persuade you to adopt the model of their choice simply because it is more lucrative for them or because they have a limited range of outsourcing models to offer.
That is why, before contacting vendors, we always suggest planning out your outsourcing plan. Here at Savvycom, we have a summary of three IT Outsourcing Models to help you consider all of your choices on the outsourcing market: full process outsourcing, dedicated teams, and staff augmentation.
3.1. Full Process Outsourcing
A vendor assumes full responsibility for the entire production process, including team organization and management, quality of performance, and associated risks. Savvycom's team handled all implementation phases, from business analysis to solution support, to understand how this outsourcing model works in practice. If you don't have any development experience or need specific software built, or if you're swamped with other projects.
Request transparent reporting and designate a delegate to maintain active contact with a vendor. Under this outsourcing model, Savvycom, for example, provides day-to-day contact on-demand and weekly status calls.
3.2. Dedicated team (aka managed team)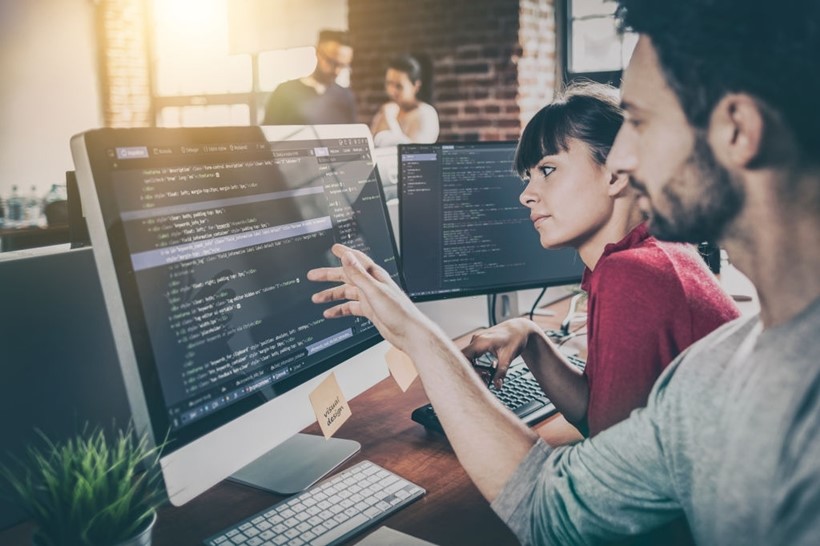 A vendor has a dedicated team that works on an outsourced portion of the project with the in-house team or another vendor, sharing costs and responsibility for quality. Team management remains on the vendor's side, and their PM updates your PM (or product owner) on progress regularly. Customers who choose this model have a well-established development team and processes, but they lack capital and domain knowledge.
I suggest looking for a vendor who can take on the task of seamlessly integrating with your creation and communication environment, as well as setting up all of the necessary resources.
3.3. Staff augmentation (aka team extension)
You hire remote specialists from a vendor, who you manage yourself, in the event of a well-established yet slow-moving development mechanism or a scarcity of unique or specialized expertise. Even when you only need 1-3 resources rather than an entire squad.
While management is on your side, I recommend selecting a vendor who also monitors employee performance and assists them in resolving problems if they arise, as this dramatically improves the quality of services you receive.
4. IT Outsourcing vs Insourcing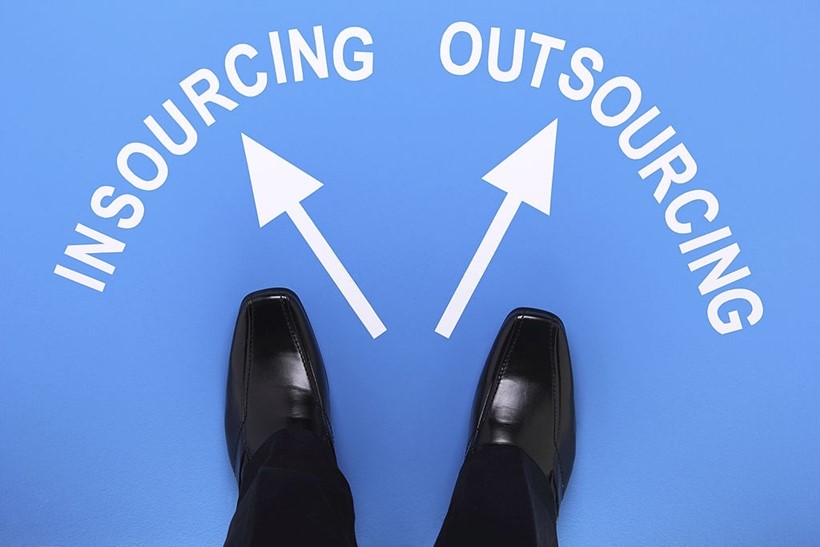 Outsourcing employs an external organization's skilled workers to complete projects and its tools for providing facilities and producing goods. Outsourcing jobs to another business is usually motivated by a desire to save money on costs.
Instead of recruiting an outside individual or organization, insourcing assigns a project to a person or department within the company. It makes use of the organization's developed resources to complete tasks or accomplish an objective. For example, a company might outsource technical support for a new product because it already has specialized support for another product.
In addition, insourcing typically involves bringing new operations and procedures in-house. As a result, insourcing can be more costly for a business because it often necessitates introducing new methods to launch a new division within the enterprise.
You can read more about the pros and cons of both outsourcing and insourcing in our article, but to make it short we have made some key takeaways:
Outsourcing entails enlisting the assistance of non-affiliated third parties to complete particular tasks.

On the other hand, insourcing is a business process carried out within the operating infrastructure of a company.

If the business uses outsourcing or insourcing, the organization's influence over activities and decisions will vary.

Insourcing involves an outside entity separate from the primary organization's operations, while outsourcing involves an outside organization that is separate from the primary organization's operations.
5. IT Outsourcing Trends & The Impact of Covid-19
5.1. Top 10 IT Outsourcing Statistics by 2021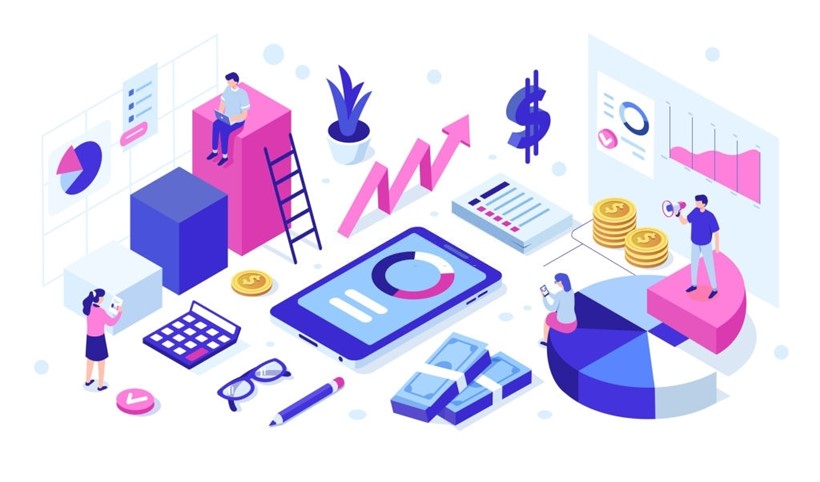 According to our most recent outsourcing figures, a growing number of companies worldwide are looking to outsource some of their critical and non-essential business functions to third-party businesses to streamline workflow and save money. As a result, outsourcing has become a way of life for both small and large companies today.
The United States outsources about 300,000 jobs per year.

The most common reason for outsourcing (70 percent) is to save money.

From 12.7 percent in 2019 to 13.6 percent in 2020, the total IT budget increased.

There were no covid-related improvements in outsourcing marketing practices for 58.8% of US marketers.

More giant corporations are 66 percent more likely than small enterprises to outsource.

In the United States, the "gig economy" employs 36% of the workforce.

In 2019, the global outsourcing market was valued at $92.5 billion.

The global IT outsourcing market is expected to be worth $397.6 billion by 2025.

In 2021, 83 percent of IT executives expect to outsource their defense to a managed service provider (MSP).

Small companies outsource 24 percent of the time to improve their productivity.
5.2. Covid-19 Has Speeded Digital Transformation By Several Years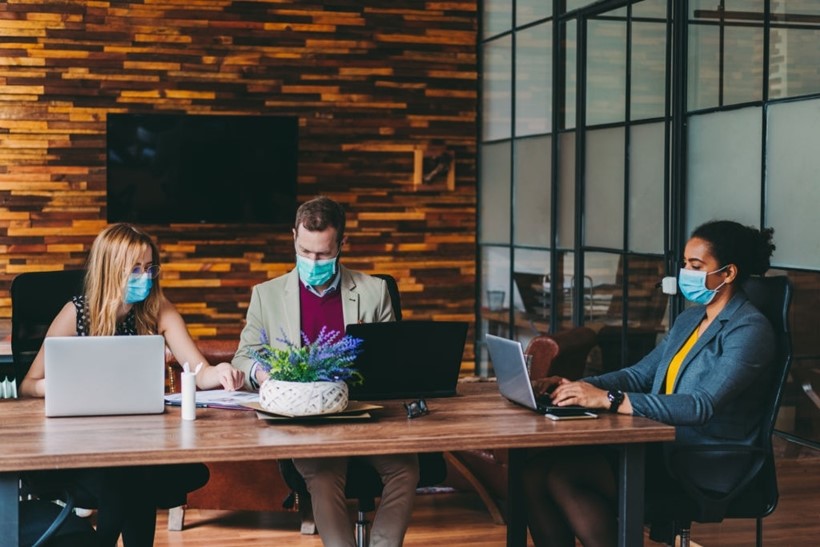 According to an article from Forbes, Covid-19 has accelerated digital transformation for multinational businesses by an average of six years in just a few months. The crisis has placed a greater reliance on digital resources for safe online communication and collaboration. In addition, the pandemic prompted a slew of new consumer requests, urging companies to adopt new technology areas to provide quicker, more modern, and more convenient experiences.
As a result of the Covid-19 outbreak, 95% of IT professionals have seen their companies redefine technology priorities, and 63% of Fortune 500 CEOs (paywall) expect the 2020 crisis to propel software progress in the industry.
Companies are more likely to use external help to accelerate the implementation of new tech technologies as their market strategies are reset. According to NTT's 2020 Global Managed Services Study, 45 percent of global companies plan to outsource further work over the next 18 months.
Source: Savvycom