On December 14, 2020, Vietnam Software and IT Services Association (VINASA) held the Honoring and Announcement Ceremony of TOP 10 Vietnam ICT Companies 2020 in Hanoi. The event has been annually held by VINASA since 2014.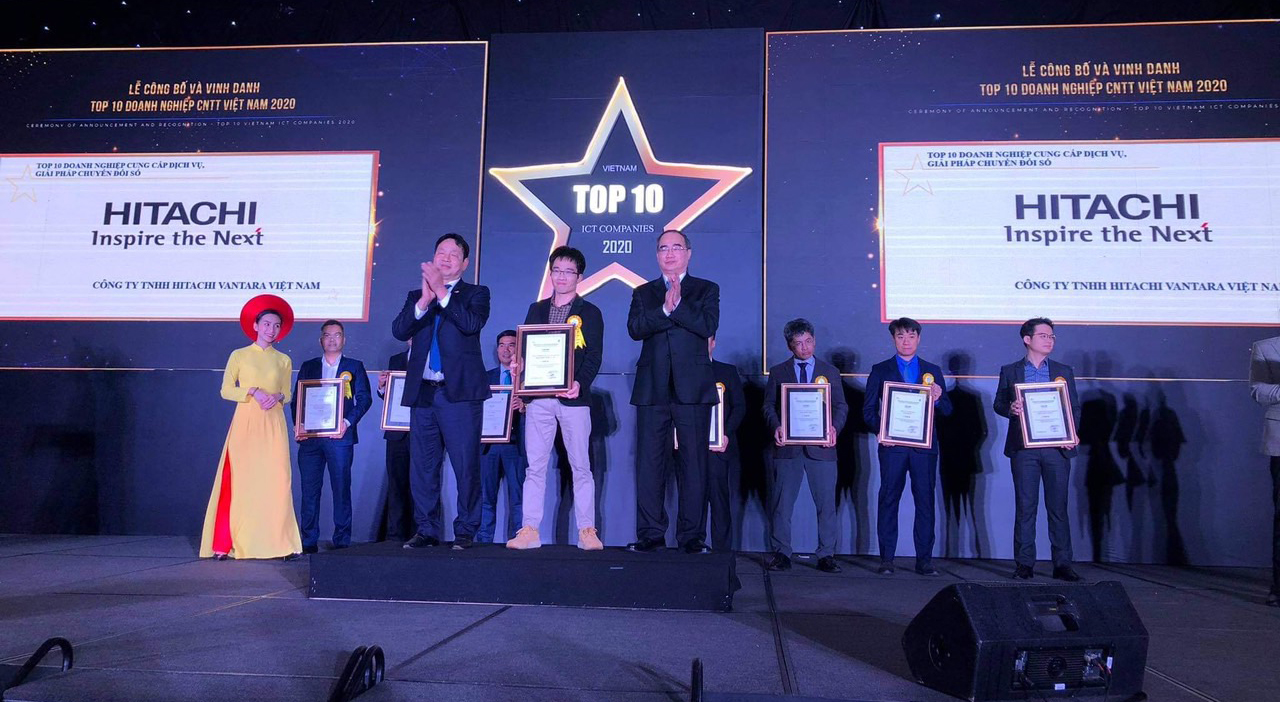 Mr. Dang Minh Dung – HVN Representative – Director of Hanoi Branch, award certificated by Mr. Truong Gia Binh, Chairman of VINASA (left) and Mr. Nguyen Thien Nhan, the Politburo Member and Secretary of Ho Chi Minh City Party Committee (right)
"TOP 10 Vietnam ICT Companies 2020", previously known as "Vietnam's 50+10 Leading IT Companies", Hitachi Vantara Vietnam (HVN) was honored as one of the leading global IT solutions providers in Vietnam in 6 consecutive years (2014, 2016, 2017, 2018, 2019, 2020). The program selects the Top 10 Vietnamese Information and Communication Technology (ICT) businesses operating across 15 fields including software and IT service exporters, business process outsourcing companies, fintech businesses, e-Government solutions providers, start-ups, digital content companies, and those with products using artificial intelligence and the Internet of Things. HVN was proudly awarded as in Top 10 Vietnam ICT Companies Program 2020 – one of outstanding Top 10 Digital Transformation services and solutions supplying companies in 2020.
This award has been a reliable measurement tool for the continuous efforts of HVN in years. Sharing the pleasure, Mr. Nguyen Ba Quynh – Senior Vice President, Hitachi Vantara and General Manager, Hitachi Vantara Vietnam, proudly remarks, "This important award is a great encouragement for entire HVN company. Winning award could open doors to getting many more business opportunities; establishing a stronger presence in both domestic and overseas markets; keeping our commitment to delivering the highest quality services to our clients, ensuring long-term development and sustainability of the company in the future".
About Hitachi Vantara Vietnam (HVN) – www.globalcybersoft.com
Hitachi Vantara Vietnam (formerly known as Global CyberSoft) is a leading global IT solutions provider founded in California in July 2000. A Hitachi group company since October 2014, it was rebranded as Hitachi Vantara in January 2020. We have many years of experience providing premier IT solutions and systems integration services to customers around the world in the areas of Digital Insights, Digital Modernization, Digital Enterprise, Embedded Systems, Digital New Offerings, Quality Assurance, and Managed Services.
About VINASA – www.vinasa.org.vn
Vietnam Software & IT services (VINASA) is a national association in Vietnam, operating on a non-governmental and not-for-profit basis with the purpose to promote co-operation and mutual support among the members, in order to promote the development of Vietnam software industry and to protect the members' rights. VINASA was established in April 2002. VINASA currently comprises more than 270 company members, most of whom are leading software firms operating nationwide.
Contact information:
Sales & Marketing Department
Tel: +84 28 5437 1199
Email: HVNSalesvn@hitachivantara.com
Time Zone: UTC/GMT+7
Source: Hitachi Vantara Vietnam